Faster. Better. Affordable. Proven.
YOU WON'T SURVIVE WITHOUT A WEBSITE
PICK A START DATE and
we can have you live in 5 days!
Live in 5 days so you can be found.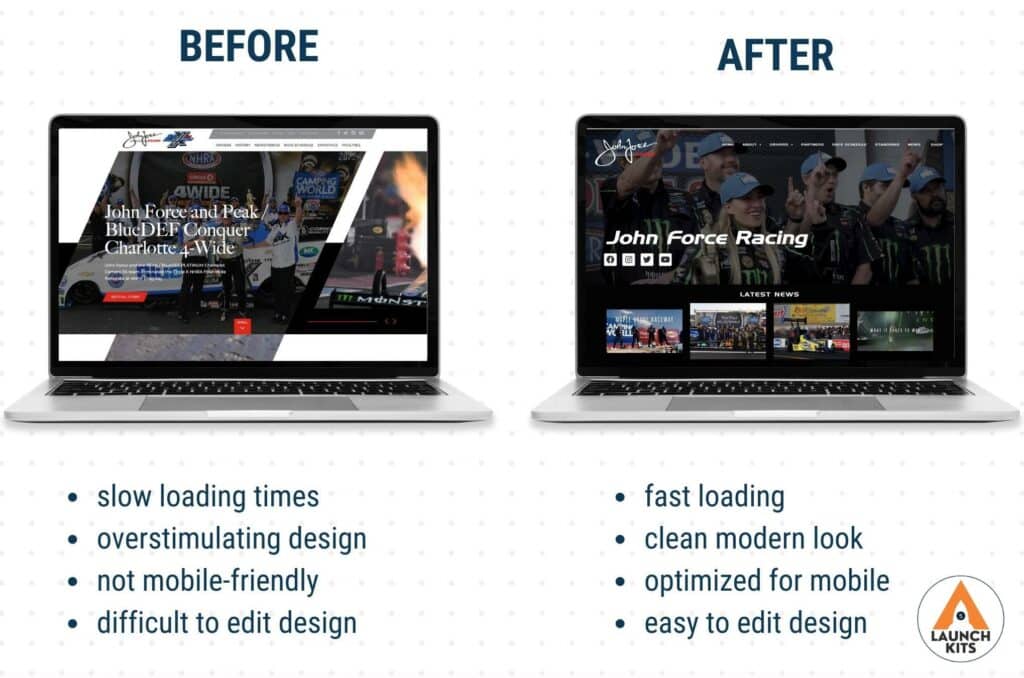 Entrepreneurs don't need to spend thousands on a website that works - or waste months in a brand discovery and design process!
LAUNCH KITS CAN have you Live In 5 days... with all you need to be found online.
Sandra Harris
August 29, 2022.
Justin and the Sparrow team made creating a website an easy and enjoyable experience. Also, later when I needed help adding a video to the our website,...woooow...Jessee provided us with our own personal video of instructions!!!! How absolutely fabulous is that! This is like "out of this world" service!!! We were able to successfully upload the video on our website. Sparrow is not only skilled at creating websites, but also great with sharing their knowledge to empower users. Thank you so very much! I highly recommend Sparrow Websites.
Jonathan Caprell
August 26, 2022.
Smooth-as-butter turnaround on every project I've ever worked on with them. Couldn't ask for more.
Valerie Hoover
August 19, 2022.
Justin and his team at Sparrow have been fantastic to work with on developing my new website. I really appreciate their fast response times and quality of work. Would absolutely recommend.
Matt Tomczak
August 18, 2022.
Lauchkits has provided and unbelievable customer experience. They have exceeded my expectations every step along the way. I cannot recommend this company enough.
Scott Beeler
August 16, 2022.
Exceptional service and communication from a team that really understands how websites drive business. Can't recommend highly enough.
Hector Gomez
August 11, 2022.
Justin, Sally, and the team at Sparrow/Launch Kits are awesome! The website design exceeded expectations and the team had it up and running within the week. Any changes and updates to the website also get done very quickly! Overall a great experience!
Tom Davis
August 10, 2022.
Launch Kits provides excellent service from friendly, knowledgeable people. Would highly recommend.
Dr. Becky Gillaspy
August 9, 2022.
The Launch Kit (Sparrow) team is awesome to work with! Their work is always top-notch and they make the process fun!
Dan Hagberg
August 3, 2022.
10/10 would recommend Justin and his team. Unbeatable quality and value in their work. They truly care about the end product and user experience.
Kathryn Trapp
August 3, 2022.
Not only do they build amazing websites, they help you understand how to use them and how they can work for you.
Entrepreneurs Launched Online
People will search for you by name.
We can help you be found.
We study, design, and build custom industry-specific templates for you!
"Entrepreneurs have been lied to – launching a smart, fast, beautiful website doesn't cost thousands of dollars and hours of meetings to launch online and be found… times have changed."
– Justin Rule – Founder, Launch Kits
Built in Lancaster, PA by Pro Web Designers & SEO Experts:
PROVEN WEBSITE DESIGNS BUILT FOR YOU.
READY TO LAUNCH?
EVERYTHING YOU NEED IN 5 DAYS!