After launching over 1,000 websites – and evaluating hundreds of existing construction company websites – we thought you'd like to know the top 5 mistakes we find in the common construction company website. Obviously, we fix them and launch PERFECT websites here at Launch Kits, but if you're considering building your own, or working with another web design agency, we always want to be helpful to growing your construction company online.
If you own a construction company or know somebody that does, here are the top five mistakes to avoid when you're building a website.
#1 Don't make it slow. No one has time to wait for your big old slow website to load. 
#2 Don't use this internal jargon language. Use common customer language. 
#3 Don't leave out information about your process. Set expectations and inform.
#4 Don't forget to show off local trust symbols. Show involvement.
#5 Don't hide who you are. Talk about yourself.
For a great construction company website, don't do these 5 things: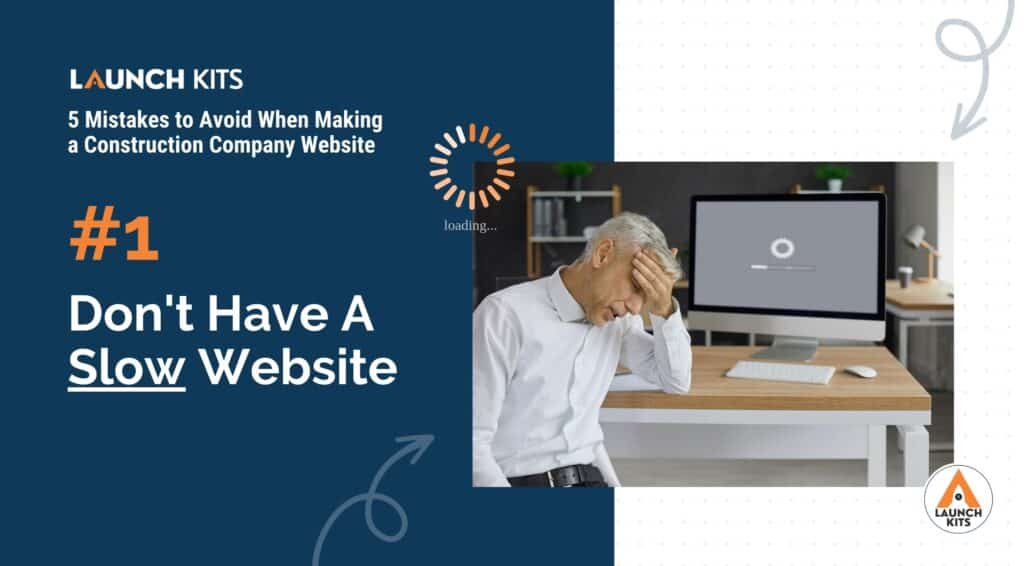 #1 Don't Have A Slow Website.
When you're a construction company, your customers understand that building projects involve time and a process. There's a process of filing, getting certificates, getting permissions, getting zoning approval, and so on. Everyone understands a construction process can take a long time. But if your website takes too long to load, your customer is gone.
If your website loads slow because you took iPhone photos that are large 5MB or 10MB file sizes five and 10 megabytes and you threw 'em up on your website without caring to resize OR if you're putting this big old like MP4 video on your background website to show the cool drone shots instead of linking to Youtube that will slow down your users experience. (Here's a great tool to optimize your photo size and titles!)
It's a huge mistake to have too large of files on your website that slow it down. Google cares about speed. If you don't pass Google speed test, you won't even be ranked. You are not going to rank organically, you're not going to be loved by Google. So come on man, you gotta get FAST. Don't make the mistake of having a slow website.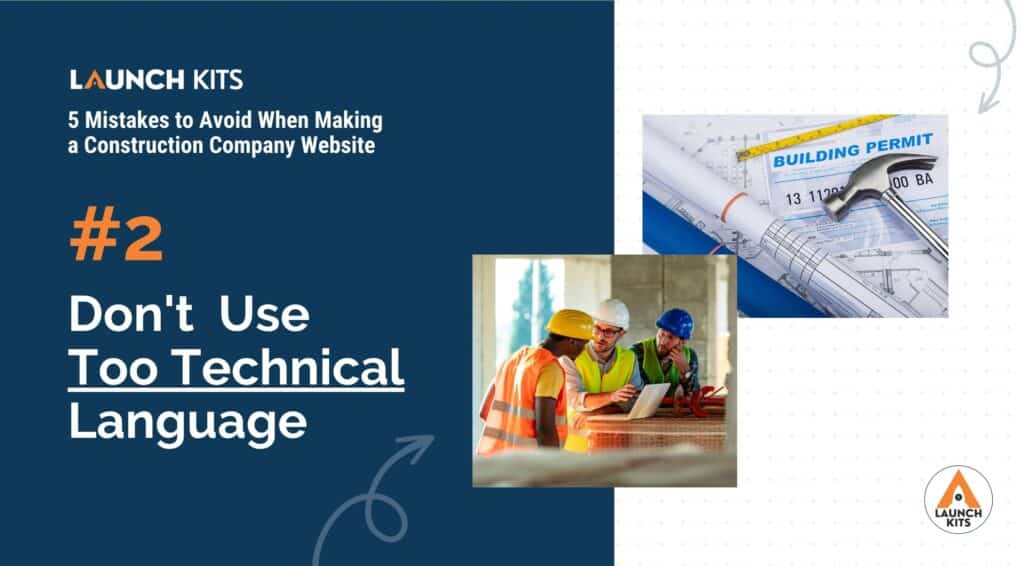 #2 Don't Use Internal or Too Technical Language.
When building your website for your construction company, don't use internal language that customers don't understand.
For example, you could explain every specific permit and form required for building projects and go into the depth of the technical terms you use on the daily. But doing this risks losing the customer with language that goes above their knowledge. It can be confusing to talk too technical.
Instead you should say something like, "we'll make sure we go through all the correct permitting processes and zoning approvals to get your house ready to build on the timeline we promised."
Don't like talk in internal, jargony, confusing language on your website. Make sure that you're not going into too much detail that will lose your audience.
If you're a roofer you could say "we'll make sure that your roof will be covered for its lifetime with any damages or repairs needed as part of our design process."
Try and stay consumer oriented in your website language because the people on your website that are trying to validate that you're a great fit aren't going to be having you on the other end of the phone talking through questions they might have. If they get confused, they tend to leave.
There's certainly times and places on your website, such as in an FAQ section, that you can really dive into details, but those are usually things that you present to customers after a contract or a sale that you then are explaining details on.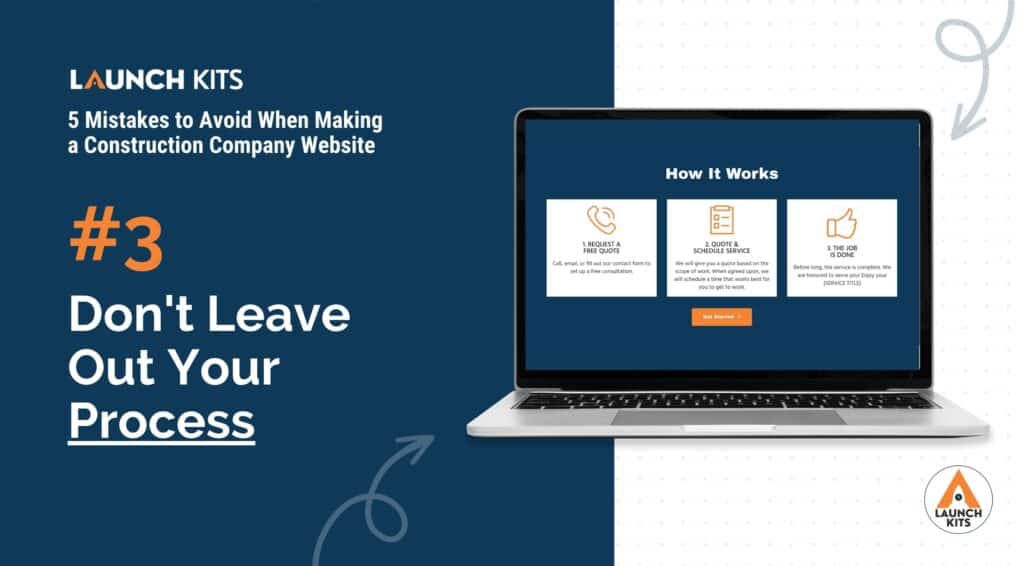 #3 Don't Leave Out Your Process.
On your construction website, don't skimp on the information about your process.
If people are trying to validate you and vet you to work on their construction project, they want to know about your process more than just "contact us" and "get the job done" You wanna have a little more information that explains each step. Say the first step of your process is sitting down with the client and establishing a budget and a reasonable timeline for the project – let the customer know what to expect.
Then explain the in between steps. For example, the next step could be, "we'll make sure that the plans and designs are approved by you before we send to permitting and zoning approval." A third step could be, "We will gather our materials and clear the land and then start on our building project."
Give people enough to know that it's not just like a virtual meet, signed a contract virtually, and then we're starting. You must give a little more information about your process.
Sometimes construction companies can tend to oversimplify where it's like "contact, gets started, you're done." So in the right spot on your website, usually on your specific service landing pages, you want to describe how the project will get done in clear and specific steps. Don't skimp!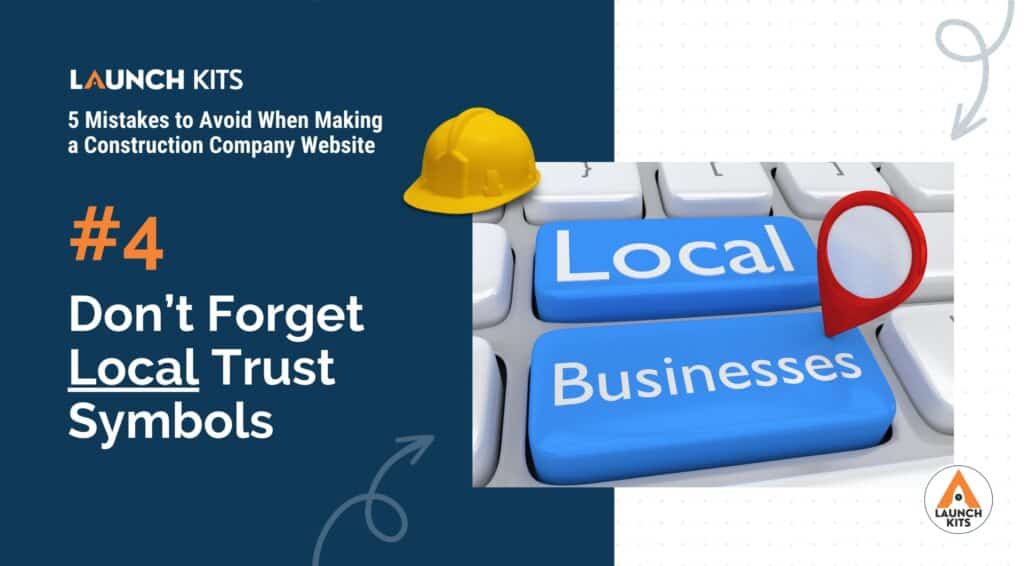 #4 – Don't Forget Local Trust Symbols.
The fourth mistake you can make on your construction website is leaving out local trust symbols.
You don't want people to get to your website and get an impersonal feeling like you are almost a franchise invested in by someone outside of town. Make sure you have local trust symbols.
Are you part of a local chamber of commerce? Did you win any awards locally? Do you give back to local sports groups? Are your kids involved in local schools plays? Do you donate locally? Make sure there's local trust built because people want to invest and keep money generally in their own community. Especially if they're building a house with you, people want to make sure that "builder Joe" is someone that they can actually run into around town and have a conversation with.
So connect locally with your customers. Make sure you put local trust symbols on your website.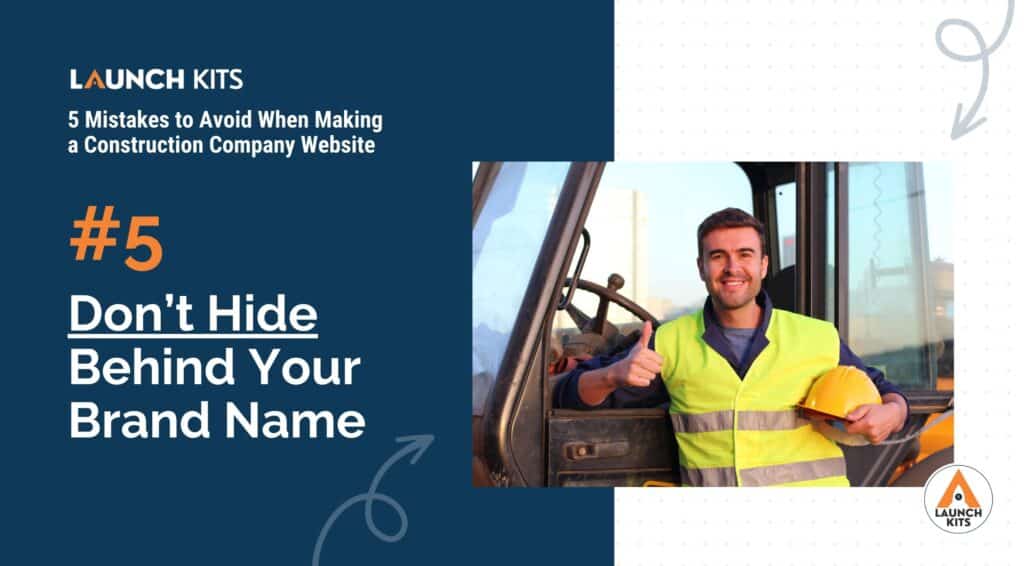 #5 Don't Hide Behind Your Brand Name.
The fifth mistake construction business owners make is behind the brand.
People want to know who you are. Make sure you put yourself out there a little bit. We've talked with brand owners who say, "ah, I'm just not willing to be the face of my brand. I'd rather the logo and the company name be the face." A year later they come back saying, "all right, I gotta try this. I gotta put my name out there." And right away it starts converting better. Because customers like to work with people more than they like to work with brands.
There's accountability with brands. There's big promises and not always follow through. So make sure if you're the owner, you don't make the mistake of hiding behind your brand. Put yourself out there, connect with your people.
If you're trying to build a construction company website that's found and trusted, remember the 4 C's (connect, convert, confirm you can, coach) because you can build a great construction company website.
Building a construction company website is easy if you've got the experts working for you that understand the industry, but it's also very easy to make these mistakes. Our team in Columbia, PA is here to help you build the perfect construction website.