With free website builders alongside custom dev shops, it may be hard to know how much you should spend to design a website.
Wix, Weebly, Squarespace, and GoDaddy brag about no-setup-fees and low monthly costs. Custom developers charge $15-25k and have high retainer fees. So what should entrepreneurs do who want to be found online?
Answer: make an informed decision.
Consider:
Who is going to be the expert content writer, designer, and conversion nerd helping you make the right decisions?
Who is going to update it?
Who is going to troubleshoot hosting or plugin or functionality issues?
Who is going to watch analytics?
Who is doing the research to make sure it is right for your customers?
How will you get images?
What time do you have to invest?
Here's 5 mins on the pros and cons of each option – and how Launch Kits websites compare.
How much should a full website redesign cost?
That's a great question. Every entrepreneur should research and ask before launching their business online.
There are different types of ways to design your website – you have free builders, you have do it yourself builders, you have high-end agencies, and you've got freelancers working in their basement that are willing to help you. So, how much should it cost to have an SEO friendly, a mobile-friendly, optimized, and proven website?
Local Agency?
Often times agencies cost way more than they need to. We did a search on a local competitor agency website for a quote. To get 10 to 50 pages, where they write five to 10 pages of content and optimize it for some keywords and make a basic responsive design, you're gonna spend $14,000 to $22,000.
Uh, no thank you.
A better way?
If you are a small business or entrepreneur launching online, I think there are better ways to invest your time and your money and your marketing dollars that you've worked hard to launch this business.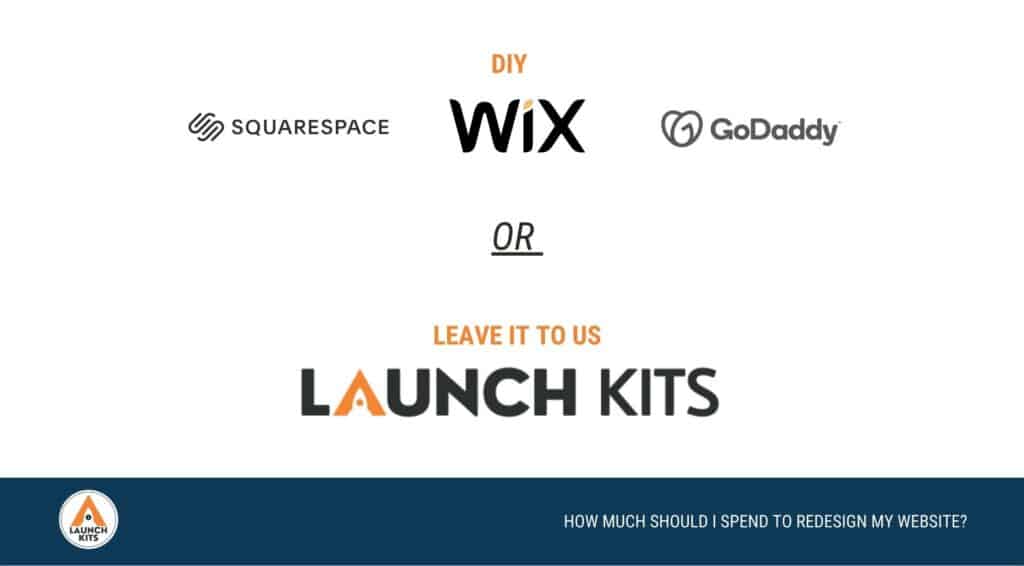 Do It Yourself Options: Wix, Weebly, GoDaddy, Squarespace
Maybe Squarespace is something you consider where you have a small monthly fee but you spend a lot of time investment into the build. Here the responsibility of picking the right template, adjusting that template so that it converts for your customers, filling it with optimized images, writing smart SEO-friendly content, connecting your forms, managing your own hosting, and doing your own updates are all on your plate.
What is your time worth?
Your time is worth money. It's going to take you 40 hours of research and design work so keep that in mind. You're gonna work before work, after work weekends, and you'll get that website live based on your own wisdom and your own understanding of your business. That's what Squarespace gives you the opportunity to do. You don't own the platform it's built on their platform. You have a limit to how much you can optimize it. And all the updates are on you.
The same goes for Wix. You don't own the platform. You put in your own time, effort, and energy and it depends on you making the right decisions.
You could also go with GoDaddy spend even less every month, but it depends on you. And you're on a shared hosting platform with hundreds of thousands of other websites.
And again, you're going get hosting, but not the expertise of what a smart build looks like.
Launch Kits Advantage
That's why I started Launch Kits. My goal was to give entrepreneurs a smart solution between custom high-end agencies and the free builders that all depend on you.

You can't be the expert it all things.
So we build websites for small businesses and entrepreneurs for you for $750 based on a proven framework. We design and build in-house for your industry. If you're in real estate, restaurant, home services, non-profits, retail and boutique, or building a professional personal brand – we study all those verticals and create our own templates.
Proven designs and templates made for you
When you decide to have us help you build your website, we get the story, the desired conversion, the information from you.
We then apply it and customize it to our proven templates.
So for $750, you can be live, indexed, and found online. We set up your Google business profile, and guess what? For our $50 a month fee, you get unlimited support training tools, hosting all the licenses for the tools on your website.
Launch Your Website in Just 5 Days!
We wanted a position where every entrepreneur and small business can have a no brainer: "Yes, please! Because I don't have the time, energy or expertise. So please let me entrust that to someone!"

Our team of designers, developers, writers, strategists all here in house. This is what we do.
We want you to make the right decision for your business, whether that's going with a free thing to be just starting out, learning the ropes, whether that's hiring a high-end agency or whether that's choosing launch kits to help you be live and launched in less than five days online.
If you want to go the extra route with us, you can pay us $1,500 to write SEO specific (search engine optimization, specific) landing pages for each of your services and design and build a custom Ebook to help you capture leads on your website as well, so that you can start growing faster email funnels and get a little more that Google can sink its teeth into.
But the bottom line is in our opinion, full website redesign should not be costing $15,000 to $25,000 to get you live online. And it's not wise to go with a free thing that completely depends on your knowledge and expertise when you can actually hire the experts to do it with you and for you at Launch Kits.