These 4 Tips will help Construction Companies Grow Online
If you're a construction company launching its online presence, you need a great website to help convert visitors into leads. My name is Justin Rule, and I'm the Founder and CEO of Launch Kits, the highest-rated web design company in the country. After launching over a thousand websites, we've learned a thing or two about helping construction companies grow online.
If you're launching a new website or looking to improve your existing one, here are four tips that can help you grow your online presence and make an impact:
Tip #1 Connect
You're a local construction company owned by local people and invested in your local community. Connect your homegrown roots with your audience. Whether you participate in a nonprofit organization, are a part of the local chamber of commerce, or sponsor sports teams, connect the dots between your company and the community. Those connections help your company stand out and build trust with potential customers. Your audience can see common interests and values, making them more likely to choose your company for their construction needs.
Creating this brand connection is a huge driver in consumer decisions, whether they purchase from a big box store or a local developer like you. So, when you build a construction company website, take the time to connect your images, content, and conversation to your website, showing that you are invested in the same community.
Tip #2 Convert
When building a construction company website, keep conversion in mind. Many construction websites may be beautiful, but they're directionless. Sure, they have a great hero image or an interesting background video, but it doesn't tell the potential customer what to do next.
Studies show that the harder the brain works when viewing a website, the more likely the visitor will leave. Scientifically speaking, they're burning calories trying to answer:
"Where do I go?"
"How do I get in touch with them?"
"How do I see samples of that?"
"What other developments did they do?"
"What do their customers have to say about their work?"
Clear navigational pathways for decisions like scheduling a meeting, a free estimate, or a consultation with your team, will improve your conversion rates. Ensure those touchpoints are easily seen and supported by testimonials endorsing your credibility.
When charting conversion pathways, ask yourself, "How do I get them from landing on my website to convert into a conversation?"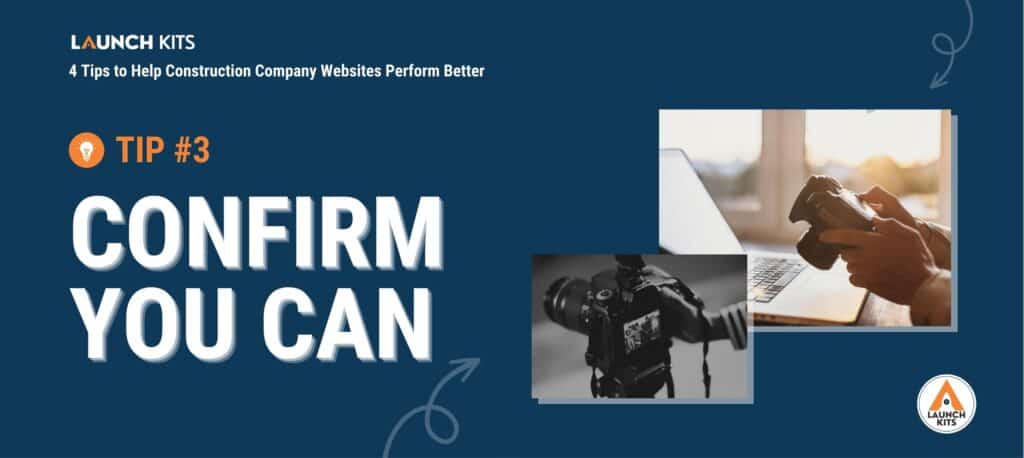 Tip #3 Confirm You Can
When Frank tells his coworker Joe about his experience building his home with your company, Joe is likely to look up your website for confirmation of the quality of your work and reputation.
A crucial tip in building a construction company website is to display real, local images to confirm credibility. Kick stock images to the curb and invest in a professional photographer to show off your team in action and completed projects. Confirm that you can build two-story garages, luxury kitchens, updated bathrooms, beautiful outdoor living spaces, or two-story additions with high-quality images, videos, and testimonials from satisfied customers.
As a consumer, it's frustrating when the offline reputation of a company doesn't match its online presence. It creates a disconnect if they've heard great things about your ability to build multi-unit homes but only see images of ranchers. It reduces the customer's trust in your ability to deliver what they want.
Confirm your reputation by ensuring your website accurately represents the services you offer and the quality of your work.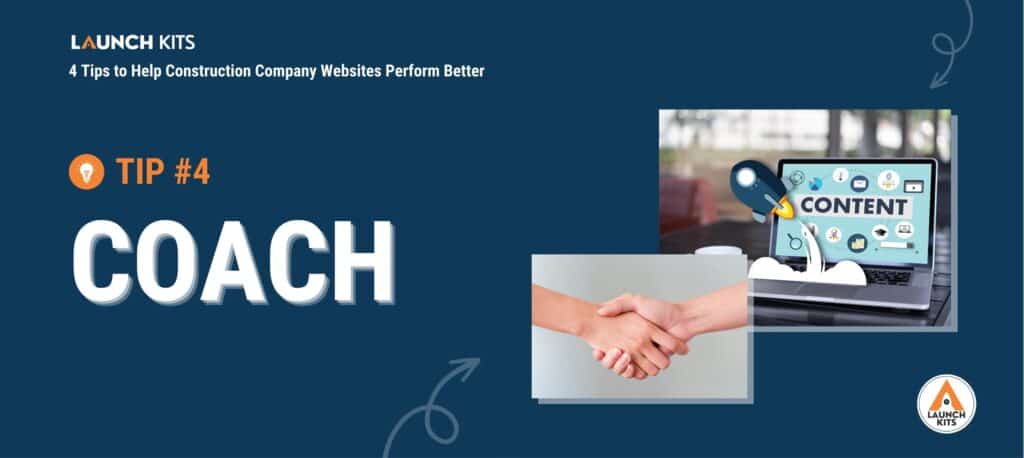 Tip #4 Coach
Coaching your potential customers on your website equips them with the information they need to make informed decisions. Provide educational resources like:
"How to Maximize Square Footage in a 2,000 Square Foot Home"
"The Pros and Cons of Building a Custom Home"
"The Top 10 Cost Savers When Building a Two-Story Home"
"How to Maximize Your Budget for a Kitchen Renovation"
When you coach your potential customers, they will find your website to be a helpful resource in ensuring they get the most out of their investment. Coaching also helps establish your company as a thought leader in the construction industry, positioning you as an expert who truly cares about providing value to the community you serve.
Guidelines for Building a Successful Construction Company Website
Although any industry would benefit from our tips for growing an online presence, these guidelines are critical for construction companies due to their hyper-local nature. In an industry where reputation is everything, a website that connects with your local audience, converts visitors into customers, confirms your credibility, and coaches your audience with valuable resources can make all the difference.
Just as important as being equipped with the top tips for building a successful construction company website, so is avoiding common mistakes that can drive potential customers away.
Check out our top 10 tips for high-converting construction company websites for even more insight on how to grow online. For more local strategies and to navigate Google's ever-changing algorithms, read our top three tips for getting found online.
The bottom line is that you're a construction company trying to grow online, attract customers, convert them from visitors into leads, make an impact in your community, and continue to build the dream that got you started in the first place. If you need a partner to help you achieve those goals, let's chat about how Launch Kits can get you there.