FREE with the exception of your time (which is worth a lot!)
We wanted to tell you the pros and cons of building a FREE site with the Wix, Weebly, and GoDaddy builders.
We also will show you how you can build it yourself in our STEP BY STEP video guide. But again, that takes about 40-60 of your own hours.
Want a free website? I'll show you how.
You can go to Wix. You can go to Weebley. You can go to GoDaddy, you can go to Squarespace and you can build it for free…
FREE UNTIL
Until you try to host it.
And then they'll charge you money.
Or until you try and get a SSL security certificate, and then they'll charge you money.
Or some of those will let you actually go live on their server for free. You just have to spend one really expensive commodity.
WHAT IT COSTS: TIME
That is TIME!
You're going to spend between 20 to 40 hours picking a template, updating the template, choosing the right photos, adding pages, customizing your forms. Many people who come to Launch Kits have already spent 40 to 50 hours trying to build their own website on their own with their own knowledge, research, insights and ideas, and get frustrated.
You can build a website for free on those other platforms but it comes with some risk.
THE RISK OF BUILDING YOUR OWN WEBSITE FOR FREE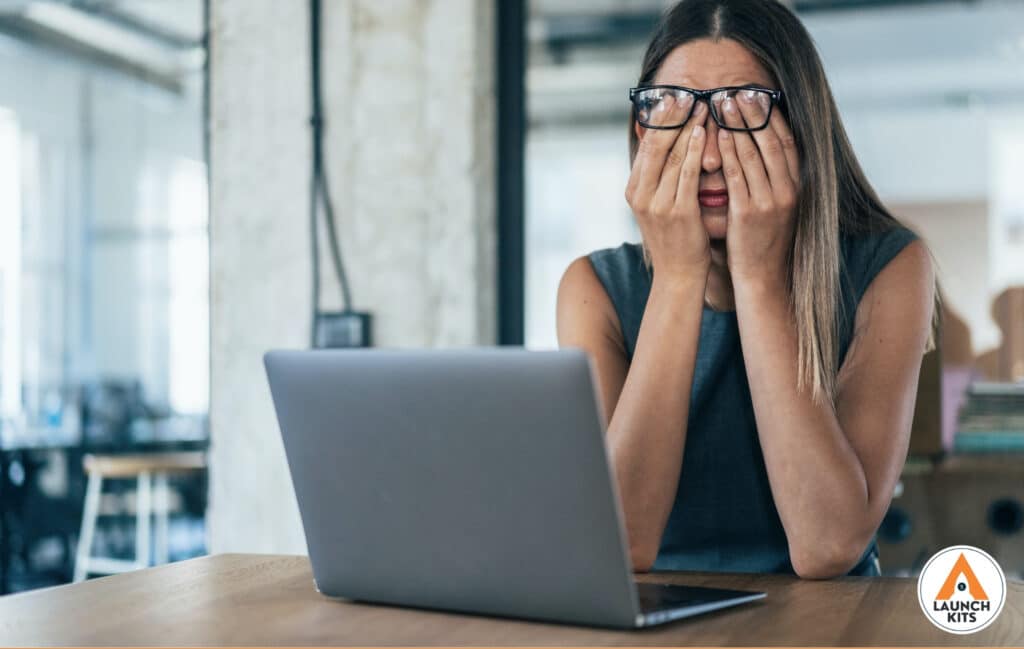 1. Not Knowing What To Do – Search Engine Optimization
First, you risk you risk not knowing what to do from a search engine optimization perspective.
What type of content should you write on your site for best SEO practices? Do you write your language or do you write in Google's language? Does Google understand your lingo and industry specific terms?
Your website has to talk in what's called "SEO friendly language search engine optimized language" that is based around keywords, common search terms, local specific wording, frequently asked questions, and more.
Not only should your website content speak it Google's language, but it should also, it should represent you.
If you're going to make an effective website on your own you need to know how to balance your own language with the keywords Google wants to see to make you visible in searches.
2. Loss of Form Conversions
Number two, when you build your own website you need to figure out the right ways to get forms that convert. Sometimes when you choose a template on a free website builder, you're just picking something that looks pretty to you, but it's not built around the science of converting a visitor into a lead or a customer.
Building a website on your own, you can potentially lower the number of leads you get through your website without knowledge of best form conversion.
3. Platform That Is Not Well Optimized
Thirdly, you can't optimize those shared hosting platforms. Basically when you build a website, it has to live somewhere. When you build it on a free website tool or platform, some of them charge you for it. or some of them let you host for free. However, you are on these shared platforms along with a hundred thousand other sites and because of that you're not well protected.
It's like peeing in the pool. You're suddenly all swimming in somebody else's urine. It's the same thing on a shared hosting platform with no securities and no backups.
You can't even optimize yours to load faster than a competitor because you're on a free shared platform. You incur that risk and that danger of having a bad first impression, because you've been slow on the others.
A BETTER WAY.
Here's what we're going to do at Launch Kits. I'll tell you how to design a website for free – from the bottom up – if you've got 40 to 60 hours. That's really how long it takes to research, build, and design if you are going to do it yourself.
I designed a base camp boot camp just for you. It includes videos and written outlined notes on how to use a free tool called Elementor to build your site.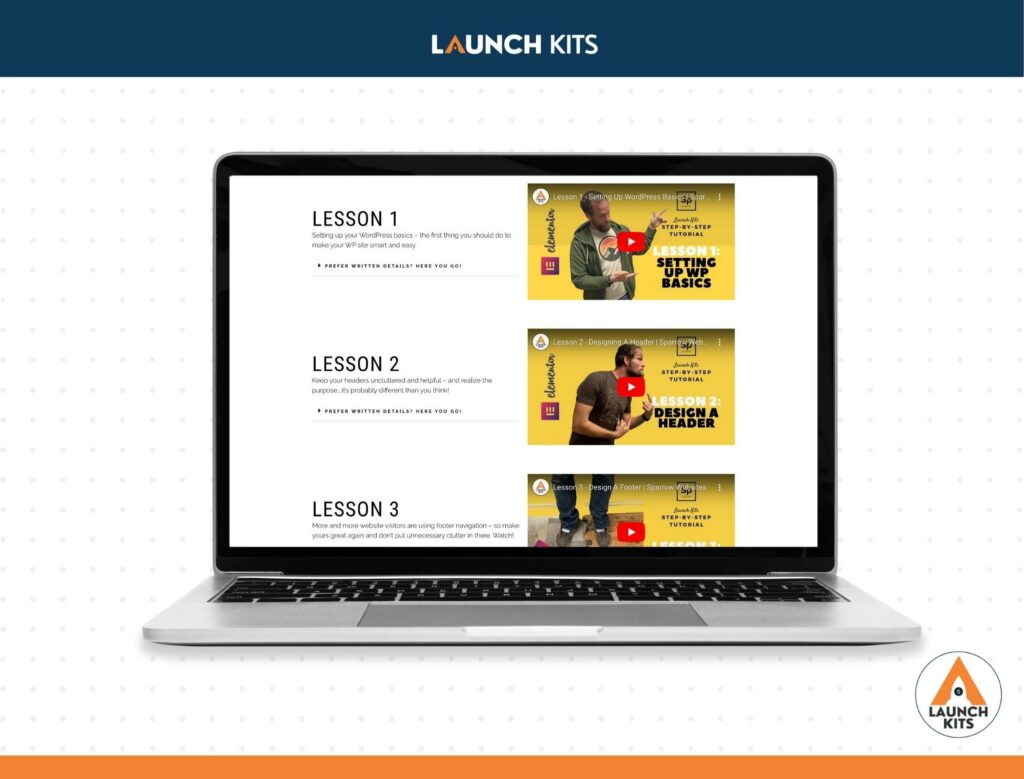 It's going take you a lot of time. It'll teach you how about header science, footer science, how to add a menu, how to design a landing page, how to add your own blog content, and how to just edit a smart page and design it on purpose with wisdom.
It also reviews the top pages and content you must have in order to be recognized and crawled by Google as well as smart tips on plugins (hint-not all are helpful and some are even detrimental)
So if you're interested in pulling up your bootstraps and putting in a lot of work, hopefully that guide can help you out.
TOO MUCH WORK? – AN EVEN BETTER WAY!
If that sounds like too much work, you don't have that much time because you're doing 12 other things in life in business. We get it. That's why we created Launch Kits or $750. Our team of experts, riders designers here know your industry. We've built and launched over 600 websites .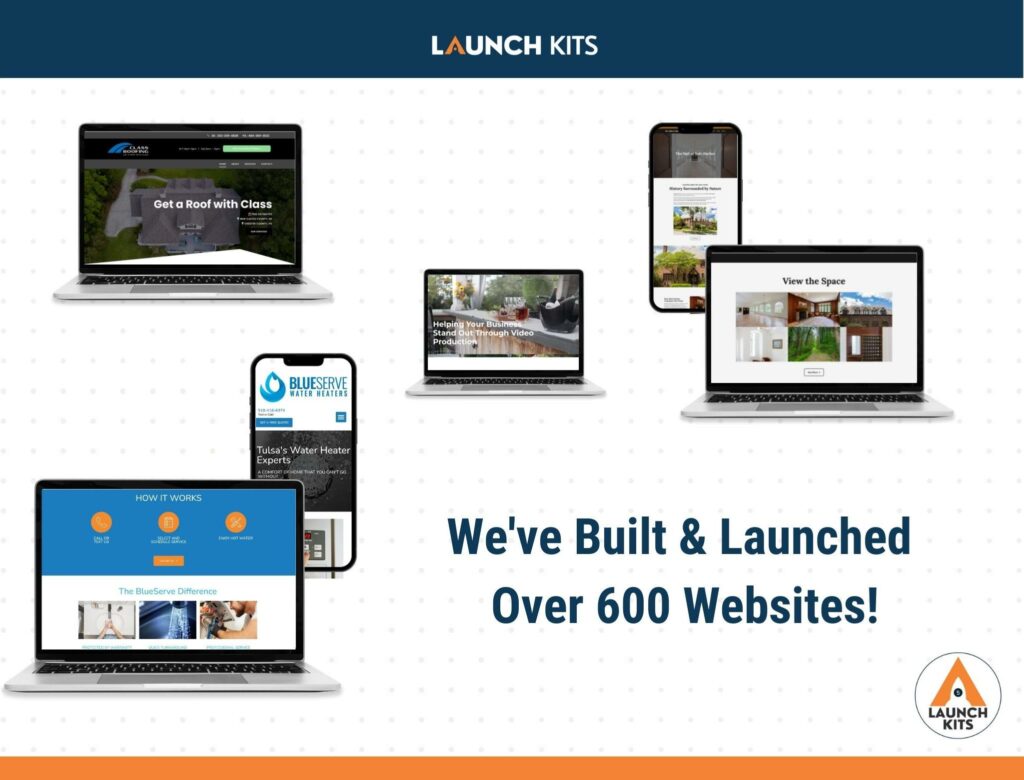 So you can just have us make you a smart, optimized, beautiful website and save your time – your most precious commodity time.
Look, whether your time's worth $25 an hour, $50 an hour, a hundred dollars an hour, paying $750 to trusted experts to launch your website is a no brainer. It's WORTH IT FOR $750
So we can help you if you're looking to build a website that's smarter than a free website while still being affordable. We all know that free is not really free – because time, is your most valuable resource.
We'd be glad to set up a free demo and that will take about 20 minutes of your time and show you how this could work for you. Hopefully I'll see you on the journey.